Christmas all year round? Yes please. I l<3 Christmastime. Something magical about it, and I hope to pass that love of it to Landon. My house is all decorated, the only music you will hear me playing is Christmas music, I've been doing some holiday baking, Elf has been playing nonstop in this house, and Landon already has plenty of Christmas outifts to wear. I even submitted a picture of Brea as Mrs. Clause in a doggy photo contest last year...and she won. Yes, Christmas is near.
(whoops, forgot to change that!)
Loooove Landon's first stocking, too bad he's too big for it or else I'd put him in it and take pictures : )
Of course this isn't all of my Christmas decor. I just didn't have any more room left of my camera! I will post more pictures of my Christmas decorations in another post.
Also, I looooooove receiving Christmas cards, this is the first year we did a photo Christmas card! Over on
Walk with my by Faith
's Blog, she is doing a Christmas card carousel, where you can view people's Christmas card.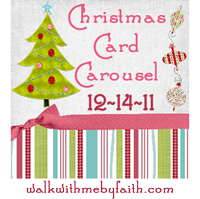 I submitted mine of course and am excited to look at everyone's!